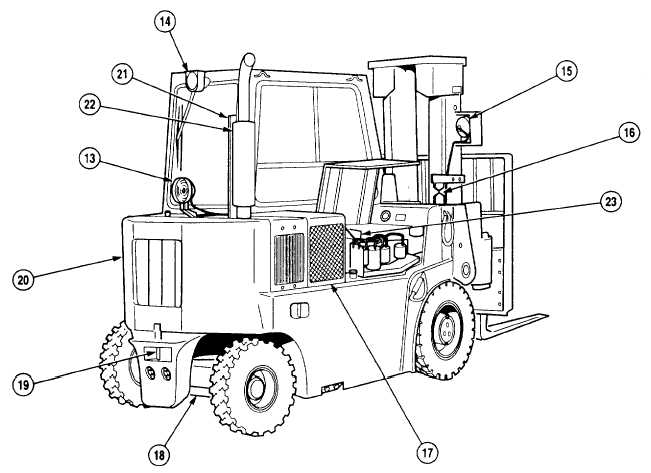 TM 10-3930-669-20
13.  Rear Flood Light
19.  Tow Pin
14.  Taillight
20.  Counterweight
15.  Front Flood Light
20.  Counterweight
16.  Mast Level Indicator
21.  Load Rest
17.  Engine Panel
22.  Exhaust Muffler
18.  Steer Axle
23.  Battery Box
Figure 1-2.  Truck, Lift, Fork - Right Rear View
1
-
1
.
SCOPE
.
a.
Type of Manual

.

 

This manual is used for unit maintenance of the Truck, Lift, Fork.
b.
Model   Number   and   Equipment   Name.

  

  

Truck,   Lift,   Fork,   NSN   3930-01-378-7497,   produced   by   Drexel
Industries, Inc.  of Pennsylvania, Model R60SL-DC.  (See Figures 1-1 and 1-2.)
c.
Purpose of Equipment

.

The Truck, Lift, Fork, hereinafter referred to as the forklift, is designed to operate as a
conventional, counterbalanced, front-loading forklift with the additional capability of operating as a side-loading forklift.
1-3