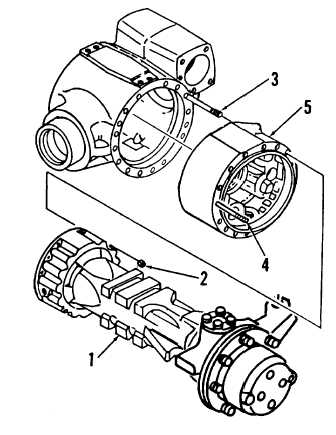 TM 10-3930-664-24
4-26.   DIFFERENTIAL GEAR REPLACEMENT (FRONT AXLE ASSEMBLY)
This task covers:  Removal, Cleaning, Inspection, and Installation
INITIAL SETUP:
Tools
and
Test
Equipment:
Equipment
Condition:
General Mechanics Tool Kit (1, App.   E)
Tie rod removed (para.   4-30,
Torque Wrench (32, App. E)
steps 1, 2, 3)
Puller Kit (26, App.   E)
Soft Head Hammer (23, App.   E)
Depth Gage (20, App.   E)
Materials
/
Parts:
Loctite No.   270 (22, App.   C)
A.   

REMOVAL
WARNING
Axle    case    is    heavy    and    awkward.
Enlist  the  help  of  an  assistant  when
removing  from  axle  to  prevent  injury
to
personnel
and
damage
to
components.
1.     While  holding  right  axle  case  (I)  in  place,  remove
sixteen nuts (2) from studs (3, 4).
2.     Carefully remove right axle case (I) from studs (3, 4).
3.     Remove two shouldered studs (4) from intermediate
cover   (5).   Remove   intermediate   cover   from   studs
(3).
4-71