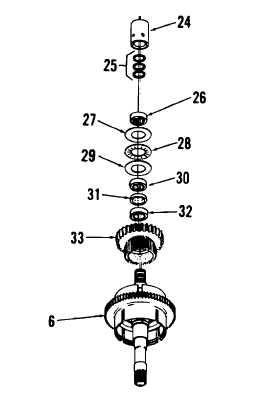 TM 10-3930-664-24
10.  Press bearings (32, 30) and spacer (33) into reverse
gear and bearing assembly (33).  Bearings must be
flush with face of gear on both sides.
11.  Carefully install gear and bearing assembly (33) onto
shaft  (6).    Align  gear  teeth  with  clutch  inner  discs.
Press down on gear and bearing assembly until fully
seated.  Do not force this operation.
12.  Install  inner  thrust  washer   (29),   bearing   (28),   and
outer thrust washer (27) onto shaft (6).
13.  Install bearing (26) onto shaft (6).
14.  Install new piston rings (25) onto shaft (6).
4-63