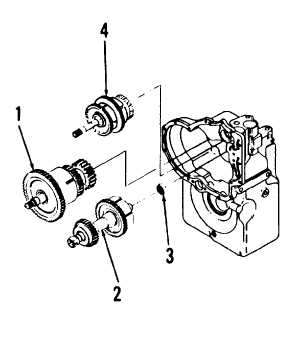 TM 10-3930-664-24
D
.
INSTALLATION
1.
Position shaft pilot bearing (3) into clutch gear.
CAUTION
Use    care    when    aligning    third    speed
clutch  assembly  to  prevent  damage  to
shaft pilot bearing.  Gear  splines  must
be  in  full position with  internal  teeth  of
all friction discs.
2.
Install third speed clutch assembly (2) into clutch
gear disc hub, ensuring splines on disc hub align
with internal teeth of friction discs.
3.
Install  forward  and  reverse  clutch  assembly  (4)
into transmission.
4.
Install      first      and      second      speed         clutch
assembly (1) into transmission.
FOLLOW-ON MAINTENANCE:
Install spacer plate
(para. 4-19)
END OF TASK
4-48