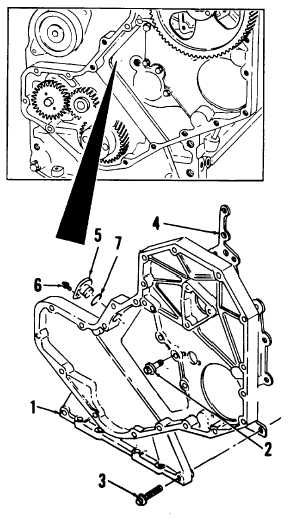 TM 10-3930-664-24
4-15.
ENGINE GEAR HOUSING REPLACEMENT
This task covers

: Removal, Cleaning, Inspection, and Installation
INITIAL SETUP:
Tools
and
Test
Equipment:
Equipment
Condition:
General Mechanics Tool Kit (1, App.  E)
Camshaft removed (para.  4-13)
Torque Wrench (32, App.  E)
Timing pin removed (para.  4-14)
Materials
/
Parts:
Gasket Kit, P/N 3802019 (1 ea.)
A.
REMOVAL
1.
Remove  engine  gear  housing  (1)  from  cylinder
block  by  removing  sixteen  screws  (2)  and  ten
screws (3).
2.
Remove   and   discard   gasket   (4).      Ensure   all
gasket  material  is  removed  from  cylinder  block
and back of gear housing.
3.
Remove  cover  plate  (5)  by  removing  screw  (6).
Remove and discard O-ring seal (7).
B.
CLEANING
Clean   engine   gear   cover   and   related   components   in
accordance with paragraph 1-24.
C.
INSPECTION
Inspect engine gear cover, cylinder block mating surface,
and related components in accordance with paragraph 1-
24.
4-34