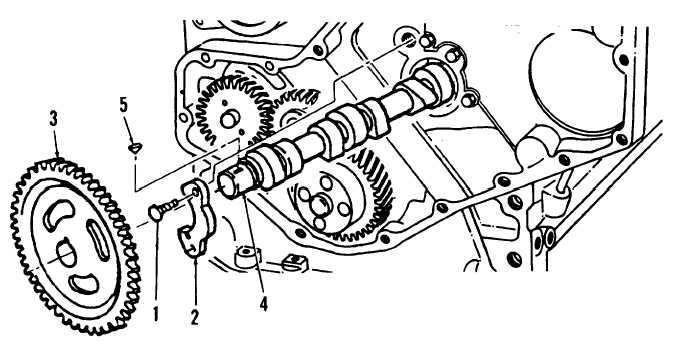 TM 10-3930-664-24
4-13.
CAMSHAFT REPLACEMENT
This task covers

: Removal, Cleaning, Inspection, and Installation
INITIAL SETUP:
Tools
and
Test
Equipment:
Equipment
Condition:
General Mechanics Tool Kit (1, App.  E)
Fuel lift transfer pump removed
Caliper Set, Outside (13, App.  E)
(para.  2-25)
Caliper, Inside (12, App.  E)
Push rods removed (para.  3-15)
Torque Wrench (32, App.  E)
Engine gear cover removed
(para.  3-12)
Materials
/
Parts:
Oil suction connection removed
(para.  3-17)
Lubriplate 105 (39, App.  C)
Engine installed upside down
in maintenance stand
A.
REMOVAL
1.
Manually rotate the engine until crankshaft gear and camshaft gear timing marks align.
2.
Remove screws (1) from camshaft support (2) to release camshaft gear (3) and camshaft (4) from cylinder block.
3.
Carefully  pull  assembled  camshaft  gear  (3)  and  camshaft  (4)  from  cylinder  block,  making  sure  not  to  damage
camshaft or bore.
4.
Separate camshaft gear (3) from camshaft (4).  Remove  key (5) if required.
4-28