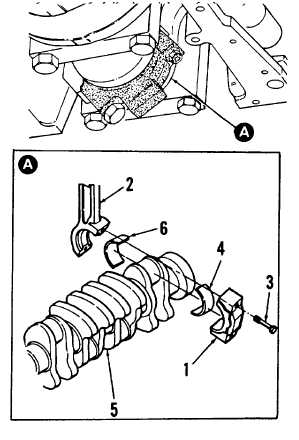 TM 10-3930-664-24
4-11. PISTON, PISTON PIN, AND PISTON RING REPLACEMENT
This task covers

: Removal, Cleaning, Inspection, and Installation
INITIAL SETUP:
Tools
and
Test
Equipment:
Equipment
Condition
:
General Mechanics Tool Kit (1, App.  E)
Oil suction connection removed
Torque Wrench (32, App.  E)
(para.  3-17)
Retaining Ring Pliers (24, App.  E)
Cylinder head assembly removed
Feeler Gage (21, App.  E)
(para.  3-8)
Caliper Set, Outside (13, App.  E)
Caliper, Inside (12, App.  E)
Ring Compressor (40, App.  E)
Materials
/
Parts:
Lubriplate 105 (39, App.  C)
Lubricating Oil (14, App.  C)
Retaining Ring, Item 11 (8 ea.)
Piston Ring Set, Item 13 (4 ea.)
A.
REMOVAL
1.
Using a grease pencil, mark rod caps and upper
halves    of    connecting    rods    (1)    according    to
cylinder location.
2.
Remove   lower   halves   of   connecting   rods   (1)
from upper halves (2) by removing screws (3).
3.
Separate  bearing  halves  (4)  from  crankshaft  (5)
or  lower  halves  of  connecting  rods  (1).  Remove
bearing halves (6) once piston is removed.
4-21