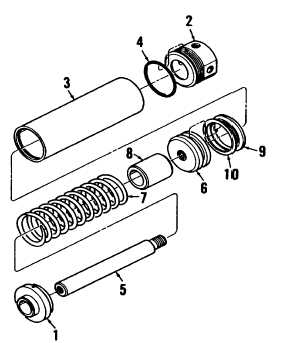 TM 10-3930-664-24
Section X.  BRAKE MAINTENANCE
3-44.  PARK BRAKE CYLINDER REPAIR
This task covers: Disassembly, Cleaning, Inspection, Repair, and Assembly
INITIAL SETUP:
Tools
and
Test
Equipment:
Equipment
Condition:
General Mechanics Too] Kit (1, App.  E)
Park brake cylinder removed
Arbor Press (25, App.  E)
(para.  2-105)
Spanner Wrench (31, App.  E)
Strap Wrench (47, App.  E)
Vise (30, App.  E)
Materials
/
Parts:
Lubricating Oil (16, App.  C)
Cylinder Kit, P/N 6331-TC230 (1 ea.)
A
.
DISASSEMBLY
1.
Place  cylinder  in  arbor  press  with  rod  end  head
(1) down.  Close press against rod end head and
blind end head (2).
WARNING
Do  not  remove  cylinder  from  press  until
blind   end   head   is   fully   released   from
body   threads.      Head   is   under   spring
pressure and could injure personnel.
2.
Install strap wrench onto cylinder body (3). Insert
1/2  inch  rod  through  hole  in  blind  end  head  (2).
Turn    head    counterclockwise    while    releasing
arbor press to disengage head from body.
3.
Remove cylinder from arbor press and place on
a clean work surface for further disassembly.
4.
Remove    blind    end    head    (2)    from    body    (3).
Remove and discard seal (4).
3-144