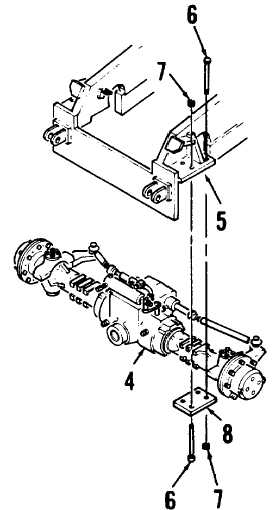 TM 10-3930-664-24
WARNING
Front  axle  assembly  is  very  heavy  and
awkward.      Enlist   the   help   of   an   aide
when  removing  from  chassis  to  prevent
injury    to    personnel    and    damage    to
components.
4.
Place    floor    jack    under    center    of    front    axle
assembly (4).  Raise floor jack until it meets front
axle assembly.
5.
Release   front   axle   assembly   (4)   from   forklift
chassis (5) by removing screws (6), nuts (7), and
axle retainers (8).  Discard screws and nuts.
6.
Lower floor jack.  Pull front axle assembly (4) out
from side of chassis (5).
B.
CLEANING
Clean front axle assembly in accordance with paragraph
1-24.
C.
INSPECTION
1.
Perform overall inspection of front axle assembly
components in accordance with paragraph 1-24.
2.
Inspect    all    hydraulic    fittings    for    evidence    of
leakage.  Tighten fittings as required.
3.
Inspect     for     evidence     of     leakage     at     plugs.
Tighten plugs as required.
4.
Inspect  steering  case  pivot  pins  for  evidence  of
leakage.  Check for signs of excessive wear and
evidence of rubbing.
5.
Inspect tie rods for obvious damage.  Ensure tie
rod   ends   are   securely   fastened.      Tighten   as
required.
3-126