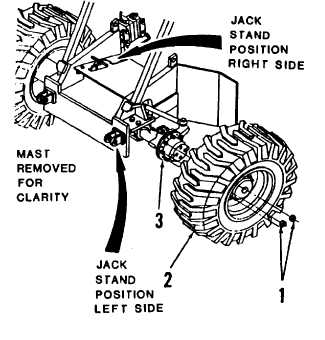 TM 10-3930-664-24
Section VIII.   FRONT AXLE MAINTENANCE
Paragraph
Title
Page
Number
Number
3-38
Front Axle Assembly Replacement
3-125
3-39
Steering Cylinder Replacement
3-128
3-40
Steering Cylinder Repair
3-131
3-38.
FRONT AXLE ASSEMBLY REPLACEMENT
This task covers

: Removal, Cleaning, Inspection, and Installation
INITIAL SETUP:
Tools and Test Equipment:
Equipment
Condition
:
General Mechanics Tool Kit (1, App.   E)
Front drive shaft removed
Torque Wrench (34, App.   E)
(para.   2-99, Step 3)
Floor Jack (48, App.   E)
Brake.lines disconnected
Jack Stands (8, App.   E) (4 ea.)
(para.   2-112, Steps 4 and 8)
Steering lines disconnected
Materials / Parts:
(para.   2-119, Step 2)
Screw, Item 6 (8 ea.)
Nut, Item 7 (8 ea.)
A.
REMOVAL
1.
Place  two  jack  stands  under  rear  lifting  eyes  to
stabilize forklift during front axle removal.
2.
Loosen but do not remove lug nuts (1).
3.
Place floor jack under front of unit, centered    on
chassis.      Raise    unit approximately 12 inches
and install two jack stands under chassis.  Place
one  jack  stand  under  mast  mounting  clevis  on
left  side.  Place  second  jack  stand  under  frame
rail   on   the   right   side,   as   near   the   directional
control valve as possible.  Remove floor jack.
4.
Remove wheels (2) from axle planet gears (3) by
removing lug nuts (1).
3-125