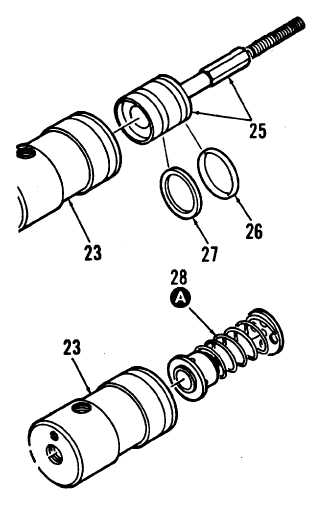 TM 10-3930-664-24
C.
INSPECTION
Inspect components in accordance with paragraph 1-24.
D.
REPAIR
Repair of the actuator pedal and cylinder consists of
removal and replacement of defective, deformed, or
damaged components.
E.
ASSEMBLY
1.
Install new seat (34) onto new stem (29).
2.
Install retainers (30, 32) and springs (31, 33) onto
stem (29).  Compress retainer (30) and install new
snap ring (35).
3.
Install stem assembly (28) into cylinder housing (23).
CAUTION
Use  care  when  installing  O-ring  (26)
and   cup   (27)   to   prevent   damage   to
piston.
4.
Carefully install new O-ring (26) and new cup (27)
onto piston.  Insert rod and piston (25) into cylinder
housing (23) using a slight twisting motion.
3-85