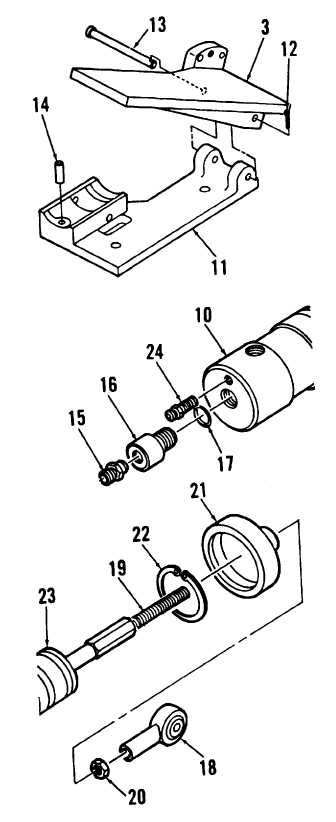 TM 10-3930-664-24
4.
Remove pedal (3) from base (11) by removing cotter
pin (12) and clevis pin (13).  Discard cotter pin.
5.
Remove spring pin (14) from base (11) only if
replacement is required.
CAUTION
Do   not   place   cylinder   in   a   vise   or
similar tool to disassemble.  Vise will
damage cylinder housing and prevent
proper cylinder operation.
NOTE
Disassemble  cylinder  over  drain  pan
to catch fluids.
6.
Remove bleeder screw (24) and drain cylinder into
pan.
7.
Remove fitting (15), adapter (16), and O-ring (17)
from cylinder (8).  Discard O-ring.
8.
Remove rod end (18) and nut (20) from push rod
(19).  Remove boot (21) and snap ring (22).
3-83