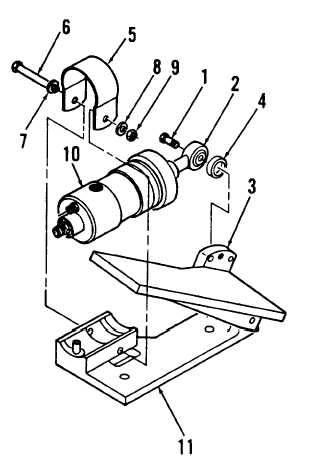 TM 10-3930-664-24
3-25.
ACCELERATOR ACTUATOR WITH PEDAL REPAIR
This task covers: Disassembly, Cleaning, Inspection, Repair, and Assembly
INITIAL SETUP:
Tools
and
Test
Equipment:
General Mechanics Tool Kit (1, App.  E)
Drain Pan (10, App.  E)
Materials
/
Parts:
Equipment
Condition:
Isopropyl Alcohol (2, App.  C)
Accelerator actuator removed
Cotter Pin, Item 12 (1 ea.)
(para.  2-44)
Repair Kit, Pedal Assembly (I ea.)
A.
DISASSEMBLY
NOTE
Note  which  mounting  hole  on  pedal
(3)  is  utilized  before  removing  screw
(1).  This will aid in re-assembly.
1.
Remove screw (1) that secures cylinder rod end (2)
to pedal (3).  Remove spacer (4).
2.
Remove cylinder clamp (5) from base (11) by
removing screw (6), washer (7), lockwasher (8), and
nut (9).
3.
Remove cylinder (10) from base (11) and place on a
clean work surface for further disassembly.
3-82