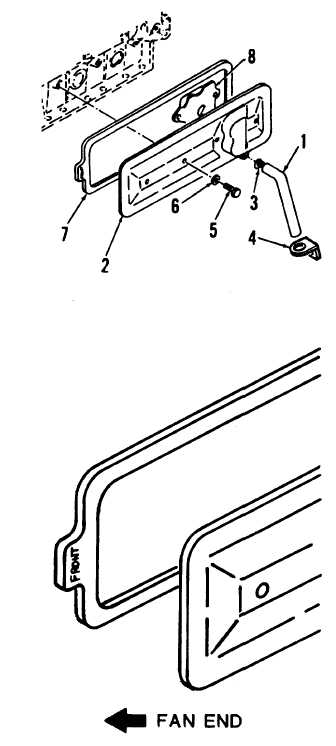 TM 10-3930-664-24
D.  INSTALLATION
1.
Mate breather baffle (8) to rear of push rod cover
(2).
NOTE
Gasket (7) must be installed so that tab
is toward fan end of engine and the word
'"FRONT" is visible from outside of push
rod cover.
2.
Mate new gasket  (7)  to  rear  of  cover  (2).  Install
cover using screws (5) and new o-ring seals (6).
Torque screws to 18 ft-lbs (24 Nm).
3.
Insert   hose   (1)   into   clip   (4).      Secure   hose   to
cover (2) using hose clamp (3).
FOLLOW-ON MAINTENANCE:
Install fuel injection pump (para.  3-20)
Install fuel filter (para.  2-36)
END OF TASK
3-45