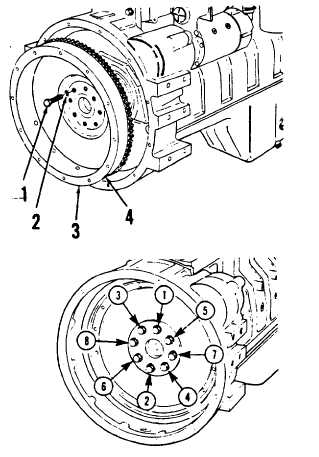 TM 10-3930-664-24
3-9.
FLYWHEEL AND REAR SEAL REPLACEMENT
This task covers

: Removal, Cleaning, Inspection, and Installation
INITIAL SETUP:
Tools
and
Test
Equipment:
General Mechanics Tool Kit (1, App.  E)
Drill Set (19, App.  E)
Electric Drill (18, App.  E)
Equipment
Condition:
Soft Head Hammer (23, App.  E)
Slide Hammer (39, App.  E)
Engine removed (para.  3-6)
Torque Wrench (32, App.  E)
Gloves (9, App.  E)
Screw, #10 Sheet Metal (2 ea.)
Materials
/
Parts:
Oil Seal Replacement Kit (1 ea.)
Ring Seal, Item 5 (1 ea.)
A.
REMOVAL
WARNING
Use caution when removing flywheel.
Flywheel  may  have  sharp  edges  and
will   cut   hands.      Wear   gloves   at   all
times when handling flywheel.
1.
Remove eight screws (1) and washers (2).
2.
Pull flywheel (3) from flywheel housing (4).
3-36