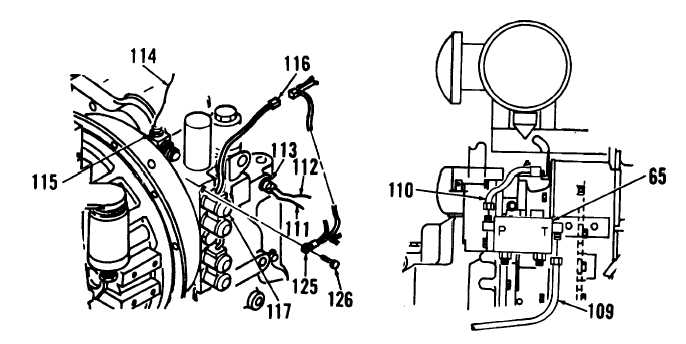 TM 10-3930-664-24
CAUTION
Drive plate mounting screws must be installed very carefully to prevent cross threading of  drive
plate  nuts.    Insert  screws  through  flywheel  and  thread  into  drive  plate  nuts  only  far  enough  to
ensure that screws properly engages nuts.  Do not tighten screws.
7.
Apply loctite to first drive plate mounting screw (122).  Install screw but do not tighten.
8.
Apply loctite to remaining seven drive plate mounting screws (122).  Manually rotate engine flywheel by turning
crankshaft pulley to gain access to remaining drive plate mounting holes.  Install but do not tighten screws.
9.
After all eight screws (122) are installed, torque screws to 26 29 ft-lbs (35 39 Nm).
10.  Measure crankshaft end play after transmission has been installed.  End play must be within .001 inch (.025 mm) of
value recorded during inspection.
11.  Install crankcase breather hose (118) into bracket (119).  Install access cover (120) and bracket over flywheel housing
access hole using screws (121).
12.  Connect ground wire (125) to transmission using screw (126).  Connect four plugs (116) to transmission  solenoids  
(117).   Connect  orange  wire  (114) to  transmission temperature sender (115) and two wires (111, 112) to back up
alarm switch (113).
13.  Connect supply hose (109) and return hose (110) to park brake and differential solenoid valve (90).
3-22