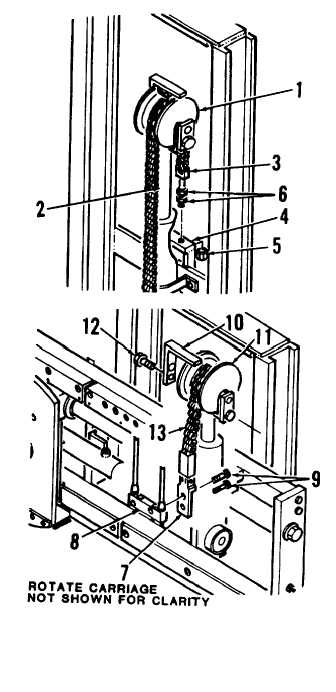 TM 10-3930-664-24
12.  Slide  cover  up  chain  to  expose  freelift  chain  anchor
(7).
13.  Apply   permanent   loctite   to   screws    (9).        Secure
anchor to sideshift carrier (8) using screws.  Torque
screws to 420 ft-lbs.
14.  Place freelift chain assembly (13) onto chain roller.
15.  Apply  removable  loctite  to  screw  (12).    Install  hose
guard (10) onto chain roller (11) using screw.
16.  Loosen  jam  nuts  (6).    Secure  freelift  chain  adjuster
(3) to bracket (4) using nut (5).
17.  Slowly raise the freelift cylinder rod by operating the
lift   control   until   tension   on   the   chain   is   achieved.
When   all   slack   on   the   chain   has   been   removed,
normal operation can be resumed.
2-415