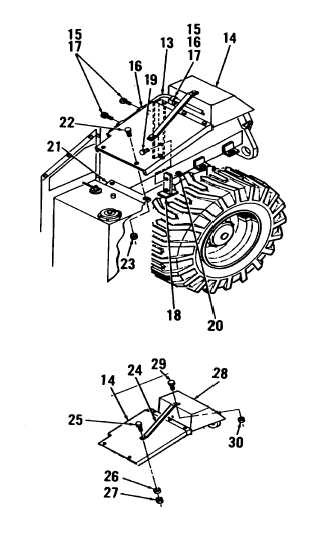 TM 10-3930-66424
D.
INSTALLATION
1.Attach fender brace (24) to fender panel (14) using
screw (25), washer (26), and nut (27).
2.Attach  fender  brace  (24)  to  light  box  (28)  using
screw (29) and nut (30).
WARNING
Rear   fender   assembly   is   heavy   and   awkward   to
handle.  Enlist the aid of an assistant when installing
to    prevent    injury    to    personnel    and    damage    to
components.
3.Install left rear fender assembly (14) onto fuel tank
(21) using screws (22) and nuts (23).
4.Install  left  rear  fender  assembly  (14)  onto  bracket
(18) using screws (19) and nuts (20).
5.Secure electrical wiring (13) to left rear fender (14)
using screws (15), clamps (16), and nuts (17).
6.Connect electrical wiring to left rear fender lights.
7.Repeat step 1 through 6 to install right rear fender
onto  support  bracket  and  hydraulic  tank.        On
right rear fender two clamps are used to secure
electrical wire.
2-358