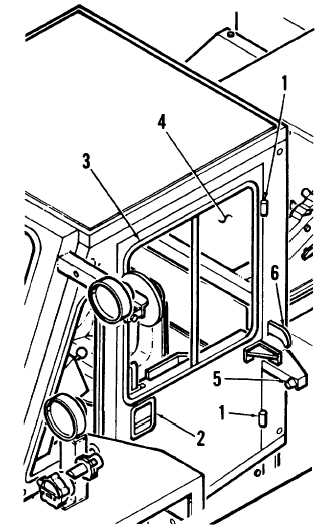 TM 10-3930-664-24
2-132.
DOOR SERVICING (MODEL MHE-271 ONLY)
This task covers: Cleaning and Inspection
A.  

CLEANING
Clean door components in accordance with paragraph 1-
24.
B.  

INSPECTION
1.
Inspect   door   hinges   (1)   for   smooth   operation.
Ensure bolt and nut are securely fastened.
2.
Operate  latch  (2)  from  both  inside  and  outside
cab.  Ensure smooth operation.  Check that latch
is fully engaged when door is closed.
3.
Inspect  window  seal  (3)  for  damage.    Inspect
window (4) for cracks or holes.
4.
Inspect rubber door bumper (5) for deterioration.
Ensure bumper is securely attached.
5.
Inspect door hold back (6) for ease of operation.
6.
Replace    defective    parts    in    accordance    with
paragraph 3-55.
FOLLOW-ON MAINTENANCE:
None
END OF TASK
2-354