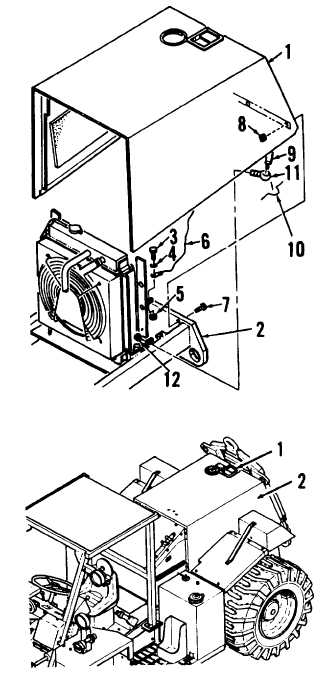 TM 10-3930-664-24
D.  

INSTALLATION
NOTE
Enlist  the  help  of  an  assistant  to  hold
hood and stabilize during installation.
1.
Install sling through radiator cap access port and
around front edge on top of hood.  Attach sling to
hoist  and  take  up  slack.  Use  blocks  to  secure
front of hood during component installation.
2.
If   removed,   install   ball   studs   (11)   on   chassis
brackets using nuts (12).
3.
Lift  hood  assembly  (2)  and  position  on  forklift
chassis.
4.
Secure   hood   assembly   (2)   to   rear   of   chassis
using screws (7) and new locknuts (8).
5.
Install  gas  springs  (9)  onto  studs  (11)  a  secure
using retainers (10).
6.
Attach    safety    lanyards    (6)    using    screws    (3)
washers (4), and new locknuts (5).
7.
Remove sling and hoist.
8.
Close  hood  assembly  (2).    Ensure  handle   (1)
fully engaged.
FOLLOW-ON MAINTENANCE:
Raise towbar and lock in position
(para. 2-126)
END OF TASK
2-344