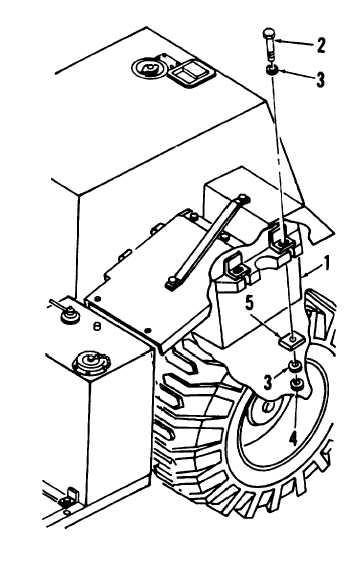 TM 10-3930-664-24
2-124.   COUNTERWEIGHT REPLACEMENT
This task covers: Removal and Installation
INITIAL SETUP:
Tools
and
Test
Equipment:
Personnel
Required:
General Mechanics Tool Kit (1, App.   E)
2 Personnel
Hydraulic Floor Jack (48, App.   E)
Torque Wrench (32, App.   E)
Wooden Blocks, 6 x 6 x 24 inches (4 ea.)
A
.
REMOVAL
WARNING
Counterweight is heavy and awkward.   Enlist the help of
an aide when removing and installing to prevent injury to
personnel and damage to components.
1.
Place  floor  jack  beneath  counterweight  (1).  Raise
jack to support counterweight.
2.
Stack wooden blocks two high and place in desired
location   on   floor  so  that counterweight is evenly
supported after removal.
3.
Remove   counterweight   (1)   from   forklift   frame   by
removing nuts (4), washers (3), bolts (2), and clamp
plates (5).
2-335