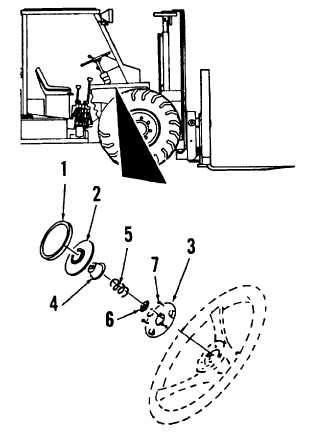 TM 10-3930-664-24
Section XVII.  STEERING COMPONENT MAINTENANCE
Paragraph
Title
Page
Number
Number
2-117
Steering Wheel Replacement
2-315
2-118
Steering Column Replacement
2-317
2-119
Hose, Line, and Fitting Replacement
2-319
2-120
Orbital Steering Valve Replacement
2-326
2-121
Priority Valve Replacement
2-328
2-122
Steering Selector Valve Replacement
2-330
2-117.
STEERING WHEEL REPLACEMENT
This task covers: Removal, Cleaning, Inspection, and Installation
INITIAL SETUP:
Tools
and
Test
Equipment:
General Mechanics Tool Kit (1, App.  E)
Steering Wheel Puller (44, App.  E)
Torque Wrench (32, App.  E)
A.
REMOVAL
1.
Remove weather cover (1) from horn button (2).
Weather cover is secured to opening in center of
horn button.
2.
Remove horn button (2) from mount plate (3).  Press
down on horn button and twist to free button from
mount plate.
3.
Remove contact cup (4), spring (5), and contact (6).
4.
Remove mount plate (3) from steering wheel by
removing screws (7).
2-315