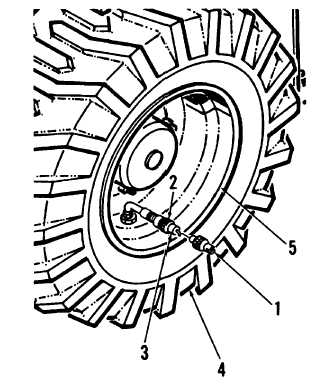 TM 10-3930-664-24
2-115.
TIRE REPLACEMENT
This task covers: Removal, Cleaning, Inspection, and Installation
INITIAL SETUP:
Tools
and
Test
Equipment:
Equipment
Condition:
General Mechanics Tool Kit (1, App.  E)
Wheel assembly removed
Air Compressor Unit (16, App.  E)
(para.  2-113)
Tire Pressure Gauge (22, App.  E)
A.
REMOVAL
1.
Remove valve stem cap (1) from adapter (2).
2.
Depress deflector pin (3) to deflate tire.
3.
Remove tire (4) from wheel rim (5).
B.
CLEANING
Clean  tire  and  related  components in accordance with
paragraph 1-24.
C.
INSPECTION
Inspect tire for air leaks and evidence of excessive or
uneven wear.
2-312