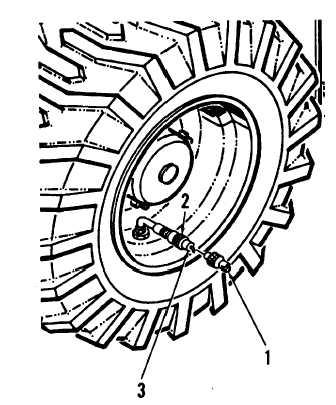 TM 10-3930-664-24
2-114.
WHEEL ASSEMBLY REPAIR
This task covers:  Disassembly, Cleaning, Inspection, and Assembly
INITIAL SETUP:
Tools
and
Test
Equipment:
Equipment
Condition:
General Mechanics Tool Kit (1, App.  E)
Wheel assembly removed
Air Compressor Unit (16, App.  E)(para.  2-113)
Tire Pressure Gauge (22, App.  E)
Materials
/
Parts:
O-ring, Item 7 (1 ea.)
Gasket, Item 8 (1 ea.)
A.
DISASSEMBLY
1.
DEFLATE TIRE.
a.
Remove valve stem cap (1) from adapter (2).
b.
Depress deflector pin (3) to deflate tire.
2.
REMOVE TIRE FROM WHEEL RIM.
2-309