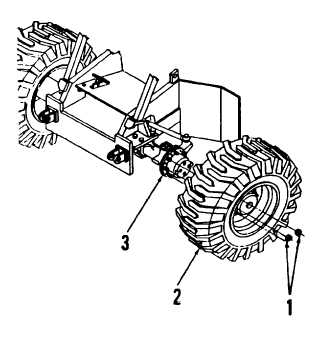 TM 10-3930-664-24
2.
Loosen but do not remove lug nuts (1).
3.
Using hydraulic jack, raise unit and install two jack
stands.  Remove wheels (2) by removing lug nuts.
4.
Repeat steps 2 and 3 to remove wheels from rear
axle.
B.
CLEANING
Clean wheels and planet gear carrier (3) in
accordance with paragraph 1-24.
C.
INSPECTION
1.
Inspect wheel  assemblies  and  related components
in accordance with paragraph 1-24.
2.
Inspect tires for air leaks and evidence of excessive
or uneven wear.
D.
INSTALLATION
1.
Install wheels (2) onto planet gear carriers (3).
Install lug nuts (1) and tighten.
2.
Raise unit and remove jack stands.  Lower unit.
Torque lug nuts (1) in a criss-cross pattern to 300 ft-lb.
(406 N•m).
FOLLOW-ON MAINTENANCE:
None
END OF TASK
2-308