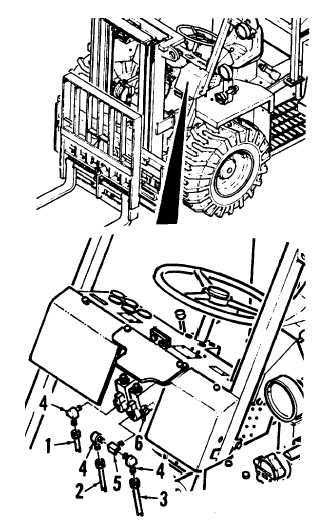 TM 10-3930-664-24
2-112.
HYDRAULIC BRAKE HOSE, LINE, AND FITTING REPLACEMENT
This task covers: Removal, Cleaning, Inspection, and Installation
INITIAL SETUP:
Tools
and
Test
Equipment:
Equipment
Condition:
General Mechanics Tool Kit (1, App.  E)
Towbar lowered (para.  2-126)
Drain Pan (10, App.  E)
Materials/Parts:
Loctite 242 (20, App.  C)
O-Ring, Item 12 (2 ea.)
O-Ring, Item 18 (1 ea.)
O-Ring, Item 21 (1 ea.)
O-Ring, Item 37 (2 ea.)
O-Ring, Item 42 (1 ea.)
A.
REMOVAL
NOTE
Place      drain      pan      beneath      hoses
when    disconnecting.        Drain    hoses
into pan.
1.
MHE-271 ONLY: Remove master cylinder access
cover from front cover by removing screws.  Access
cover must be removed to disconnect tube
assemblies from master cylinders.
2.
Tag and disconnect tube assemblies (1, 2, 3) from
elbows (4).  Remove elbows and tee (5) from master
cylinders (6).
2-302