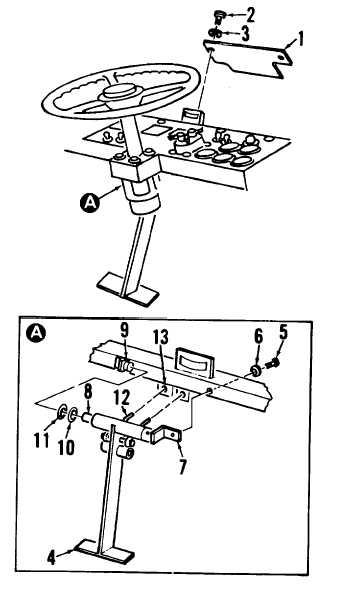 TM 10-3930-664-24
2-108.  BRAKE PEDAL ASSEMBLY REPLACEMENT
This task covers

: Removal, Cleaning, Inspection, and Installation
INITIAL SETUP:
Tools
and
Test
Equipment:
General Mechanics Tool Kit (1, App.  E)
A.  

REMOVAL
1.
Remove  master  cylinder  cover  (1)  from  ROPS
frame by removing screws (2) and washers (3).
CAUTION
Hold  brake  pedal  weldment  in  place
while
removing
attaching
parts.
Brake   is   heavy   and   brake   rods   or
master cylinders could be damaged.
2.
While holding brake pedal weldment (4) in place,
remove screw (5) and washer (6).
3.
Pull  out  seat  pivot  (7)  to  release  pivot  (8)  from
welded  seat  pivot  (9).    Ensure  thrust  washers
(10, 11) remain with pivot.
4.
Carefully  pull  out  on  brake  pedal  weldment  (4)
until brake rods (12) are completely  disengaged
from master cylinders (13).
B.  

CLEANING
Clean     brake     pedal     assembly     in     accordance     with
paragraph 1-24.
C.  

INSPECTION
Inspect brake pedal assembly and related components in
accordance with paragraph 1-24.
2-295