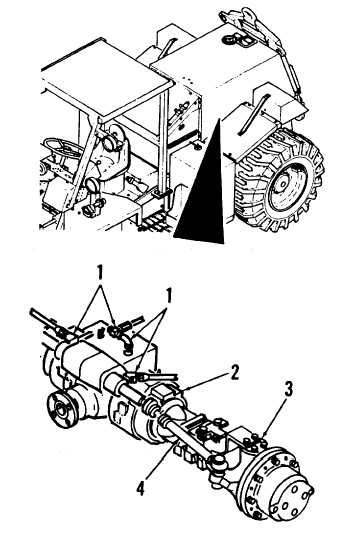 TM 10-3930-664-24
Section XIV.  REAR AXLE ASSEMBLY MAINTENANCE
2-103.  REAR AXLE ASSEMBLY INSPECTION
This task covers

: Inspection
INITIAL SETUP:
Tools
and
Test
Equipment:
General Mechanics Tool Kit (1, App.  E)
A.  

INSPECTION
1.
Perform overall inspection of rear axle assembly
components in accordance with paragraph 1-24.
2.
Inspect  all  hydraulic  fittings  (1)  for  evidence  of
leakage.      Tighten   hose   ends   and   fittings   as
required.
3.
Inspect for evidence of leakage at axle plugs (2).
Tighten plugs as required.
4.
Inspect steering case pivot pins (3) for evidence
of  leakage.    Check  for  signs  of  excessive  wear
and evidence of rubbing.
5.
Inspect tie rods (4) for obvious damage.  Ensure
tie  rod  ends  are  securely  fastened.    Tighten  as
required.
FOLLOW-ON MAINTENANCE:
None
END OF TASK
2-287