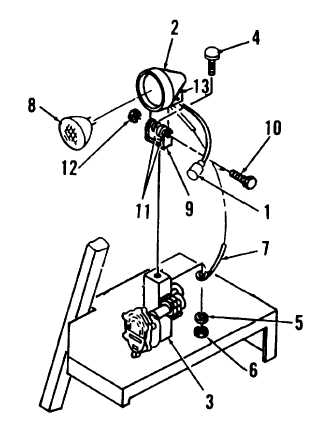 TM 10-3930-664-24
2-64.
WORK/DRIVE LIGHT REPLACEMENT
This task covers:
INITIAL SETUP:
Tools
and
Test
Equipment:
Equipment
Condition:
General Mechanics Tool Kit (1, App.  E)
Batteries disconnected (para.  2-78)
Vise (30, App.  E)
A.
REMOVAL
WARNING
Electrical shock hazard.    Disconnect  battery  ground
cable or power source prior to working on electrical
components.    Failure  to  heed  warning  could  cause
shock,  injury  or  death.    If  electrical  shock  occurs,
administer first aid and seek medical assistance.
1.
REMOVE LIGHT HOUSING (2) FROM LEFT
FRONT FENDER.  REMOVE SEALED BEAM (8).
a.
Tag and disconnect electrical  wire  (1)  from  light
housing (2).
b.
Remove  light  housing  (2)  from  light  post  (3)  by
removing  carriage  bolt  (4),  lockwasher  (5),  and
nut (6).  Remove ground wire (7).
c.
Remove   light   housing   (2)  from U-bracket (9)
by removing carriage bolt (10), lockwashers (11),
and nut (12). Remove bracket (13).
d.
Install  light  housing  (2)  into  vise.    Pull  housing
away   from   sealed   beam   (8)   and   pry   sealed
beam out of housing using screwdriver.
e.
Disconnect  sealed  beam  (8)  from  light  housing
(2).
2.
REPEAT STEP 1 FOR RIGHT FRONT FENDER
LIGHT.
2-192