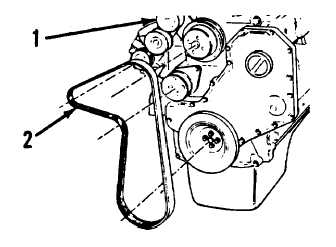 TM 10-3930-664-24
6.
INSTALL DRIVE BELT (2).
a.
Using  3/8"  square  drive  handle,  lift  up  on  belt
tensioner arm (1).
b.
Carefully install drive belt (2) onto alternator.
c.
Release belt tensioner arm (1).
d.
It may be necessary to reposition alternator after
belt   installation   to   ensure   correct   belt   tension.
Reposition alternator by loosening link screw and
lifting or lowering alternator.
FOLLOW-ON MAINTENANCE:
Test belt deflection (para.  2-54)
Service radiator (para.  2-46)
Install fan guard (para.  2-53)
END OF TASK
2-157