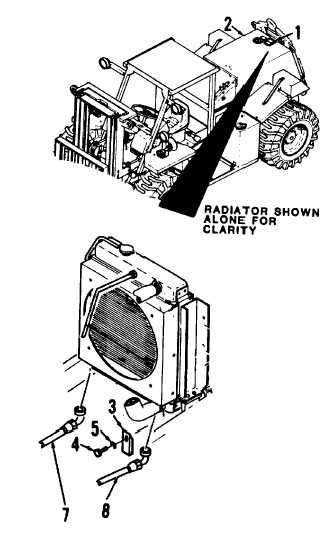 TM 10-3930-664-24
2-48.  RADIATOR BAFFLE REPLACEMENT
This task covers:

Removal, Cleaning, Inspection, and Installation
INITIAL SETUP:
Tools
and
Test
Equipment:
Equipment
Condition:
General Mechanics Tool Kit (1, App.  E)
Towbar lowered (para.  2-126)
Drain Pan (10, App.  E)
1-1/8" Open End Wrench (52, App.  E)
A.  

REMOVAL
1.
Release   hood   assembly   (2)   by   lifting   handle   (1).
Open hood assembly.
2.
Place   drain   pan   beneath   hose   assemblies   (7,   8).
Disconnect hose assemblies from elbows at base of
oil cooler.
3.
Remove  lower  left  and  right  radiator  baffles  (3)  by
removing screws (4), washers (5), and nuts (6).
2-151