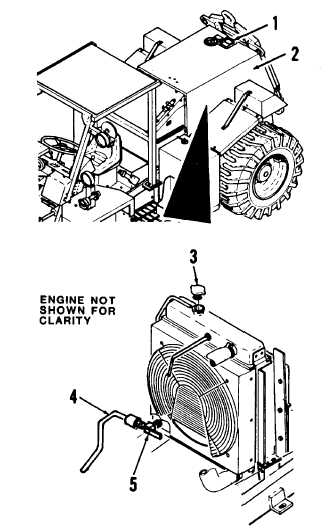 TM 10-3930-664-24
WARNING
Use  a  clean  thick  waste  cloth  or  like
to    remove    the    cap.        Avoid    using
gloves, because you could be burned
if hot water soaked through them.
1.
Slowly  loosen  radiator  cap  (3)  to  first  stop.    Allow
pressure release.  Remove cap.
2.
Release   hood   assembly   (2)   by   lifting   handle   (1).
Open hood assembly.
3.
Place   drain   pan   beneath   drain   tube   (4).      Move
handle  on  drain  cock  (5)  to  open  position  and  drain
radiator.
4.
Return handle on drain cock (5) to closed position.
B.  

CLEANING
Clean and flush radiator in accordance with TM 750-254.
C.  

SERVICING
NOTE
Use   a   50-50   mix   of   ethylene   glycol
(MIL-A-46153)    and    clean    water    for
radiator  coolant.    Plain  water  is  not
recommended.    Mix  coolant  mixture
before pouring into radiator.
1.
Fill  radiator  with  coolant.    Radiator  has  a  5  gallon
capacity.
2.
Close hood assembly (2).  Ensure handle (1) is fully
engaged.
3.
Install radiator cap (3).
FOLLOW-ON MAINTENANCE:
Raise towbar and lock in position  (para.
2-126)
END OF TASK
2-146