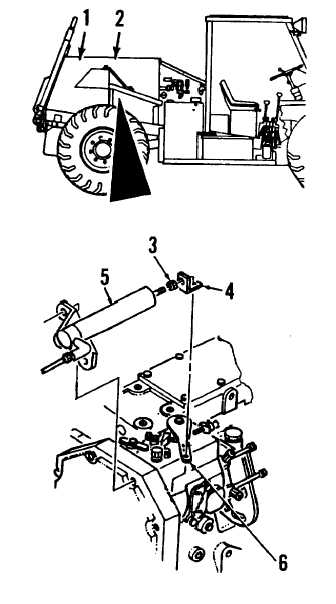 TM 10-3930-664-24
2-42.  ACCELERATOR SLAVE CYLINDER ADJUSTMENT
This task covers: Adjustment
INITIAL SETUP:
Tools
and
Test
Equipment:
Equipment
Condition
:
General Mechanics Tool Kit (1, App.  E)
Towbar lowered (para.  2-126)
A.  

ADJUSTMENT
1.
Release   hood   assembly   (2)   by   lifting   handle   (1).
Open hood assembly.
NOTE
The    accelerator    slave    cylinder    (5)
requires    occasional    adjustment    to
ensure   full   travel   of   the   fuel   pump
lever arm (6).
2.
Loosen nut (3).
3.
Adjust  position  of  cylinder  threaded  rod  in  bracket
(4).  Tighten nut (3) against bracket.
4.
Start   up   forklift   and   operate   accelerator   pedal   to
ensure proper cylinder adjustment.
5.
Close hood assembly (2).   Ensure  handle  (I)  is  fully
engaged.
FOLLOW-ON MAINTENANCE:
None
END OF TASK
2-137