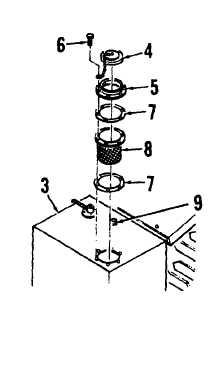 TM 10-3930-664-24
D.   

INSPECTION
1.     Inspect
fuel
strainer
for
cuts,
tears,
cracks,
corrosion, or other damage.  Replace if damaged.
2.     Inspect  remaining  components  in  accordance  with
paragraph 1-24.
E.  

STRAINER

INSTALLATION
1.     Wrap threads of breather (9) with teflon tape.  Install
breather  into   fuel   tank   (3),   ensuring   breather   port
points towards engine compartment.
2.     Install fuel strainer (8) and new gaskets (7) onto fuel
tank (3).
3.     Install  flange  (5).    Apply  loctite  to   six   screws   (6).
Align screw holes and install screws.  Install cap (4)
onto flange.
F.  

SERVICING
Service fuel tank using approved fuel.  Check fittings for
leaks and tighten as required.
FOLLOW-ON MAINTENANCE:
None
END OF TASK
2-120