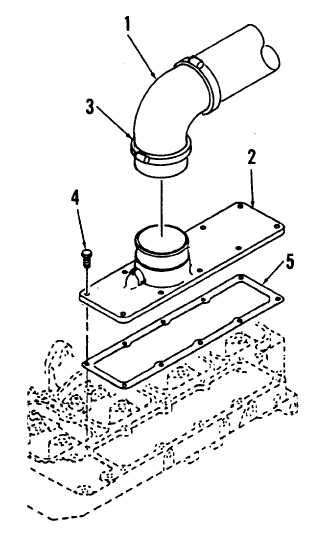 TM 10-3930-664-24
D.  

INSTALLATION
1.     Position  new  gasket  (5)  and  intake  manifold  cover
(2) onto engine.
NOTE
Five  manifold  cover  holes  closest  to
valve  covers  are  drilled  through  and
must be sealed.
2.     Apply  sealant  to  five  screws  (4)  and  install  screws
into cover holes closest to valve covers.
3.     Install five remaining screws (4).   Torque  all  screws
to 18 ft-lbs (24 Nm).
4.     Install   rubber   elbow   (1)   and   secure   by   tightening
clamp (3).
FOLLOW-ON MAINTENANCE:
Install high pressure fuel lines (para.  2-27)
END OF TASK
2-91