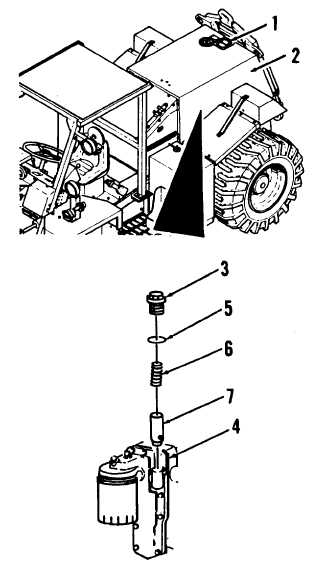 TM 10-3930-664-24
2-19.  OIL PRESSURE RELIEF VALVE REPLACEMENT
This task covers:  Removal, Cleaning, Inspection, and Installation
INITIAL SETUP:
Tools
and
Test
Equipment:
Equipment
Condition:
General Mechanics Tool Kit (1, App.  E)
Towbar lowered (para.  2-126)
Torque Wrench (32, App.  E)
Materials
/
Parts:
O-Ring, Item 5 (1 ea.)
A.  

REMOVAL
WARNING
Heated  engine  parts  and  hot  oil  can
burn   you.      Take   care   not   to   touch
engine    parts    when    replacing    relief
valve and related components.
1.     Release   hood   assembly   (2)   by   lifting   handle   (1).
Open hood assembly.
2.     Remove  plug  (3)  from  oil  filter  head  (4).    Remove
and discard O-ring (5).
3.     Remove  spring  (6)  and  pressure  regulator  plunger
(7) from oil filter head (4).
B.  

CLEANING
Clean  pressure  relief  valve  components  in  accordance
with paragraph 1-24.
2-80