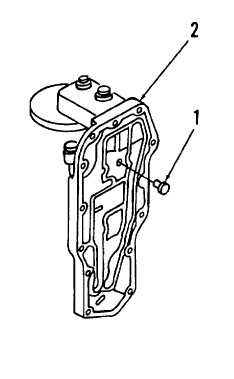 TM 10-3930-664-24
2-18.  OIL FILTER BYPASS VALVE REPLACEMENT
This task covers:  Removal, Cleaning, Inspection, and Installation
INITIAL SETUP:
Tools
and
Test
Equipment:
Equipment
Condition:
General Mechanics Tool Kit (1, App.  E)
Oil cooler removed (para.  2-17)
A.  

REMOVAL
Remove  oil  filter  bypass  valve  (1)  from  rear  of  oil  filter
head (2) using a flat blade screwdriver.
B.  

CLEANING
Clean oil filter head in accordance with paragraph 1-24.
C.  

INSPECTION
Inspect bypass valve bore in filter head for damage.
D.  

INSTALLATION 

 
1.     Insert oil filter bypass valve (1) into oil filter head (2).
2.     Using  hammer  and  punch,  drive  bypass  valve  into
filter head bore until valve bottoms against step.
FOLLOW-ON MAINTENANCE:
Install oil cooler (para.  2-17)
END OF TASK
2-79