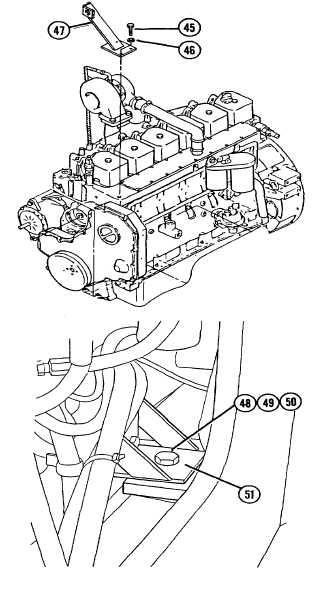 TM10-3930-660-34
3-3.ENGINE ASSEIBLY - REPLACE (Cont'd)
9.  REMOVE ENGINE MOUNTING HARDWARE.
a.      Remove   three   capscrews   (45)   and   lockwashers   (46)   to
Remove radiator support (47).  Discard lockwashers (46).
b.  Remove locknut (48), rebound washer (49) and capscrew (50)
from  front  left  side  and  front  right  side  engine  mounts  (51).
Discard locknut (48).
NOTE
There  is  one  locknut,  rebound   washer,   and
capscrew  attaching  each  front  engine  mount
to the vehicle frame.
3-11