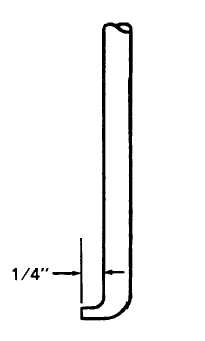 TM10-3930-660-34
APPENDIX C
ILLUSTRATED LIST OF MANUFACTLURED ITEMS
Section I.INTRODUCTION
C-1.
General.  

This appendix includes complete instructions for making items
authorized to be manufactured or fabricated at the Direct Support and General
Support maintenance levels.
Section II.MIFACTURIED ITES ILLUSTRATIONS
C-2.
Manufactured

Items

.  All bulk materials needed for manufacture of an
item are shown on the illustration.
Figure C-1
Tandem Gear Pump Seal Removal Tool
1.Fabricate from a screwdriver.
2.Heat screwdriver tip and bend as shown.
3.Grind tip to fit notch behind shaft seal.
C-1