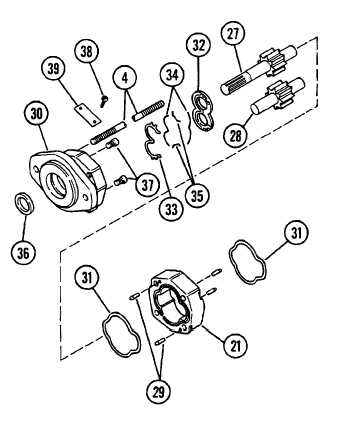 TM10-3930-660-34
16-3.  TANDEM GEAR PUMP - REPAIR (Cont'd

)
ASSEMBLY
CAUTION
Do not grip on or near any machined surfaces
during   disassembly   or   assembly.   Failure   to
follow this precaution will cause part damage.
NOTE
Wipe  all  sealing  surfaces  clean  and  dry.  Apply  film  of  clean
hydraulic oil to all seals as they are installed.
1.
INSTALL PARTS (36-39) IN END COVER (30).
a.   Secure plate (39) with two screws (38).
b.   Place end cover (30) in a vise with mounting face
down.
c.    If removal of two plugs (37) was necessary, apply on
threads. Install them in end cover (30). Stake each
plug with a punch at both ends of screwdriver slot
and around edges.  Peen edge of hole 1/32 to 1/16
inch with a 1-1/2 inch steel diameter ball.
d.   Apply Permatex Aviation
Form-A-Gasket No.  3 sealant on lip seal (36).  With
metal side of seal up, use an arbor press and a bar (1-3/4 inch diameter by 2 inch long bar), press seal (36) into
end cover (30).  Press seal flush with recess.  Wipe off excess sealant.
16-15