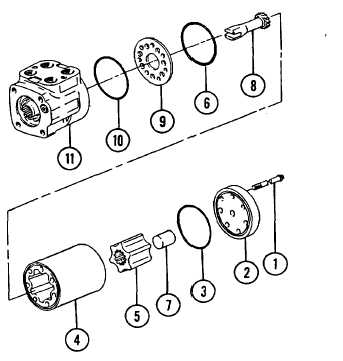 TM10-3930-660-34
12-5.  STEERING CONTROL VALVE - REPAIR
This task covers:
a. Disassembly
b. Cleaning
c. Inspection
d. Assembly
Initial
Setup
Tools
Materials/Parts
Shop Equipment, Automotive
Hydraulic Oil (App. B, Item 35)
Maintenance, Common #2
Lint Free Rags (App. B Item 38)
Less Power
Seal (3, 6, 10, 22, 24, 26)
Equipment
Condition
Emergency steering control valve
removed, TM10-3930-660-20.
DISASSEMBLY
CAUTION
Care should be taken not to contaminate
emergency steering pump during
disassembly. Dirt and other foreign
substances should be removed from
surrounding area and pump before
disassembling. Failure to follow this
precaution will cause part damage.
1.
PLACE LINT FREE TOWELS OVER JAWS OF
VISE TO PREVENT DAMAGE TO STEERING
CONTROL VALVE.
2.
PLACE STEERING CONTROL VALVE IN A
VISE, METER END UP. DO NOT
OVERTIGHTEN VISE.
3.
DISASSEMBLE STEERING CONTROL VALVE
(1-28).
a.  Remove seven capscrews (1).
b.  Remove end cap (2).
c.  Remove and discard seal (3) from
end cap (2).
12-8