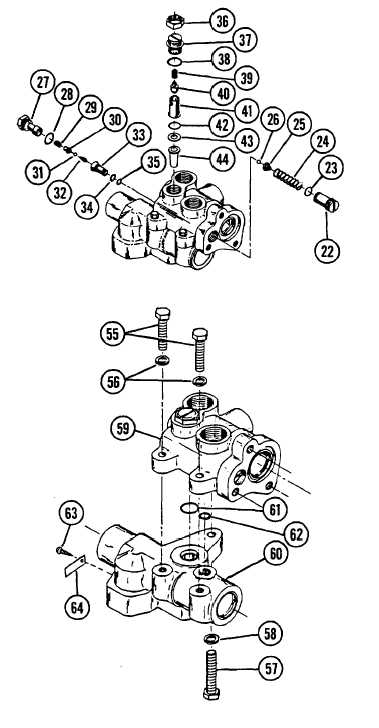 TM10-3930-660-34
10-4 BRA

KE

CONTROL VALVE - REPAIR (Cont'd)
CLEANING
See Cleaning Instructions, para 2-10
INSPECTION
1
MEASURE SPOOL (32) AND BALLS (26 AND
31).
a Assemble spool (32) inside insert
(33).  Place balls (26 and 31) in
respective seats.  Measure across
balls (26 and 31) with a
micrometer Record measurement .
b.  Remove spool (32) and place balls
(26 and 31) on their respective
seats.  Measure with a micrometer.
c.  Subtract smaller dimension from
larger dimension If difference
is less than 0 004 inch, replace
spool (32) with a new one.
2
INSPECT PLUG AND LOCKING PIN
ASSEMBLY  (22).
a.  The plug (22) has a nylon pin
through threaded end so that plug
will hold adjustment to which it
is set.  Screw plug into control
housing (59).
b.  Check to see if nylon pin has
sufficient friction with threads
to keep plug (22) from vibrating
loose .
c.  If there is no increase in torque
required to turn plug (22) when pin
engages threads, replace pin.
ASSEMBLY
NOTE
Wipe all sealing surfaces on pump clean
and dry Apply film of clean hydraulic
oil to all seals as they are installed.
10-12