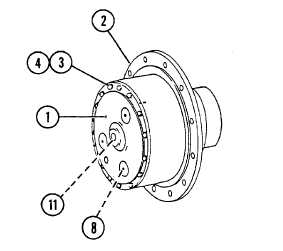 TM 10-3930-660-34
8-6.  FRONT PLANETARY WHEEL ENDS - REPLACE (Cont'd)
WARNING
Adequate ventilation must be provided when silicone RTV-
732 clear sealing compound is applied in confined
areas.  Failure to do so could cause respiratory irritation,
headaches and nausea.  Eye contact with silicone RTV- 732
clear sealing compound may cause irritation; if eye contact
takes place, flush eyes with water for 15 minutes and have
eyes examined by a doctor.
c.
Apply a continuous bead of silicone RTV-732
clear sealing compound approximately 1/8 inch
in diameter completely around the hub
mounting face and around the inner edge of all
fastener holes to assure complete sealing and
prevent leakage.
NOTE
Assemble components immediately to permit silicone RTV-
732 clear sealing compound to spread evenly.  Failure to do
so could cause axle to leak.
d.
Start planetary spider (1) onto wheel hub
(2),  aligning teeth of planetary gears (8)
with sun gear (11) and ring gear (13) teeth.
e.
Align the match marks on the spider flange
and wheel hub as previously marked during
removal.
f.
Align holes on wheel hub (2) with holes on
planetary spider (1) flange and push spider
assembly against hub (2).
g.
Install sixteen capscrews (3) and
flatwashers (4).
h.
Tighten capscrews (3) and torque to 60-75
lb. ft.
8.
FILL PLANETARY WHEEL ENDS WITH
LUBRICANT,  L010-3930-660-12.
9.
INSTALL FRONT DISC BRAKE ASSEMBLY,
PARA.  10-3.
10.
INSTALL WHEEL ASSEMBLY, TM10-3930-660-
20.
8-39/(8-40 Blank)