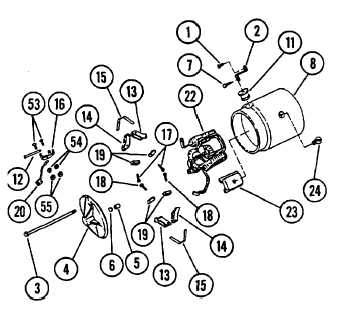 TM10-3930-660-34
6-4.
STARTER - REPAIR (Cont'd)
8.
IF REMOVED,PRESS NEW BEARING (5) INTO
BORE IN COIL END FRAME (4).SOAK WICK
(6) IN OE/HDO-10 ENGINE OIL, AND
INSTALL.
9.
CHECK TO BE SURE THAT BRUSHES (19) ARE
MAKING PROPER CONTACT WITH
COMMUTATOR, AND THAT ALL INTERNAL
ELECTRICAL CONNECTIONS HAVE BEEN
CORRECTLY MADE.  THEN,INSTALL COIL END
FRAME (4) AND THROUGH BOLTS (3).SECURE
CONNECTOR (2) TO SOLENOID SWITCH (28)
TERMINAL USING SCREW (1).
6-18