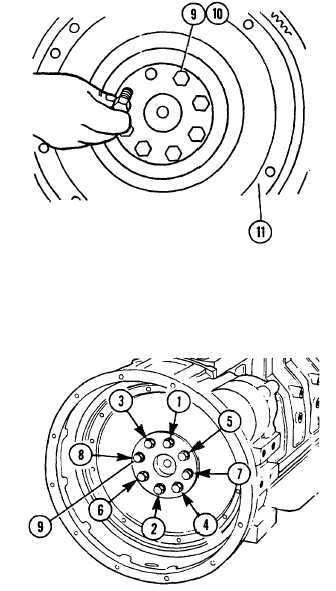 TM 10-3930-660-34
3-12.  FLWHEEL - REPLACE (Cont'd)
CAUTION
Do not use the timing pin to lock the engine.
Use    a    barring    tool    to    hold    the    engine
crankshaft
during
flywheel
installation.
Using   the   timing   pin   as   a   locking   device
while
tightening
the
flywheel
mounting
hardware could damage the pin.
1.
INSTALL   FLYWHEEL   (11).      USE   BARRING
TOOL   TO   KEEP   THE   CRANKSHAFT   FROM
TURNING.    USE  NEW  CAPSCREWS  (9)  AND
WASHERS (10).
a.
Attach   a   suitable   lifting   device   and   hoist,
with  a  capacity  of  at  least  200  pounds,  to
the flywheel.
CAUTION
Install  new  capscrews  each  time  flywheel  is
removed   to   help   prevent   possible   engine
failure.
b.
Lift  flywheel  (11)  against  end  of  crankshaft
and   install   eight   new   capscrews   (9)   and
washers   (10).      Remove   hoist   and   lifting
device.
c.
Install barring tool between long capscrews
in vibration damper.
d.
Firmly   hold   barring   tool   to   keep   flywheel
from  turning,  and  tighten  capscrews  (9),  in
the sequence shown, to 101 lb.  ft. torque.
e.
Remove barring tool.
3-88