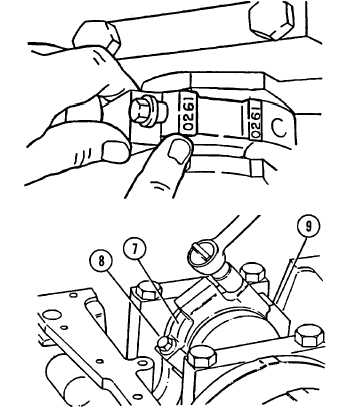 TM 10-3930-660-34
3-8.
CRANKSHAFT - REPLACE/REPAIR
(Cont'd)
h.
Remove   capscrews   (8)   and   connecting   rod
caps (7).
i.
Measure   plastigage   to   determine   what   size
connecting rod bearings to install.
j.
Repeat  STEPS  a  through  i  for  the  other  five
connecting rods.
6.   INSTALL CONNECTING ROD BEARINGS (10 AND 11)
AND CAPS (7).
a.
Turn    crankshaft    until    two    connecting    rod
bearing journals are bottom center.
b.
Put upper bearing half (10) on connecting rod
(9) with tab in the rod groove.
c.
Put  lower  bearing  half  (11)  in  connecting  rod
cap (7) with tab in cap groove.
d.
Apply   Lubriplate   105   to   inside   surfaces   of
upper and lower bearing halves.
CAUTION
The four digit number stamped on the connecting rod and
the rod cap must match and be facing the oil cooler side of
the engine.  Connecting rod and cap are machined as a set
and must be kept that way.  Failure to install matched sets
could result in premature engine damage.
e.
Pull    piston    and    connecting    rod    assembly
against  crankshaft  journal  and  install  bearing
cap (7) with new capscrews (8).    Be  sure  the
four digit number stamped on the bearing cap
matches
the
number
stamped
on
the
connecting rod and that it is facing towards the
oil cooler end of the engine.
3-65