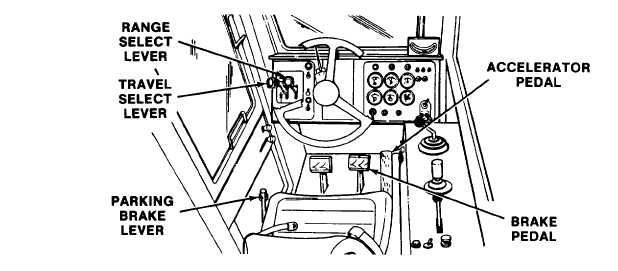 TM10-3930-660-10
g.
After  the  engine  starts,  operate  the  engine  just  above  idle  for  30  to  60  seconds  before  driving
the   vehicle.   Check   the   readings   on   the   gauges   before   moving   the   vehicle.   Return   engine   speed
to  idle  before  moving  the  range  select  lever.
2-7.
MOVING   THE   FORKLIFT.
Do  not  travel  with  the  automatic  fork  level  switch  in  the  ON  position.  It  is
possible  to  drop  a  load  which  can  result  in  load  damage,  injury  or  death.
Use  care  when  backing  up.  Have  someone  direct  you  if  you  cannot  see
where   you   are   going.   Watch   clearances.
The  forks  extend  beyond  the  end  of  the  carriage.  The  operator  must  be
aware  of  the  swing  of  the  forks  when  turning  and  allow  for  adequate
clearance   between   the   forks   and   other   objects.
a.    

Operating 

Safely.
(1)   Do   not   allow   riders   on   the   vehicle.
(2)   Understand   vehicle's   lifting   limitations   and   keep   the   vehicle   under   control.   DO   NOT   try   to
exceed   limitations.
2-27