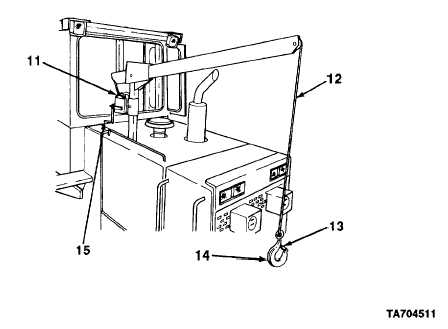 TM 10-3930-659-10
2-20.  OPERATE ON-BOARD CRANE (Con't).
d.  To lift load with crane:
(1) Position crane as required to perform load lifting.
(2) Pull enough cable (12) from winch (11) to reach load.
(3) Attach hook (14) at end of cable (12) to load, ensuring that safety catch (13) on hook is completely closed.
(4) Turn hoist handle (15) to raise load.  Move load into position.
(5) Turn hoist handle (15) to lower load to stowage position.  Remove hook (14) and cable (12).
(6) Reel cable (12) onto winch (11).
WARNING
Crane  Is  heavy.    Assistant  Is  required  to  raise  or  lower  crane  to
various operating positions.  Assistant may be required to help raise
or lower load.  Failure  to  follow  this  warning  may  result  In  Injury  to
personnel.
(7) Return crane to stowage position.  Ensure that cable hook (14) is secured to forklift truck so that crane cannot
move during movement of vehicle.
2-57