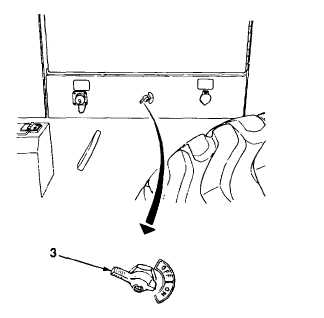 TM 10-3930-659-10
2-16.  SHUT DOWN ENGINE (Con't).
d.  Move battery disconnect switch (3) to OFF
position.
2-17.  OPERATE ATTACHMENT FUNCTIONS

.
NOTE
•
Due   to   variety   of   loads   and   operating   conditions,   specific
operating  Instructions  are  not  provided;  only  general  guidelines
are provided.
•
Attachment  functions  are  controlled  by  three  manually  operated
control valves.
a.  When Increased engine speed is required tu ensure that enough power is provided to perform the mission:
(1) Disengage clutch cut-off switch (1).
TA704504
2-50