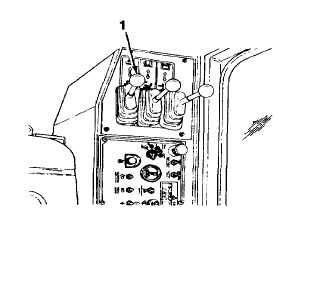 TM 10-3930-659-10
2-13.  DRIVE FORKLIFT TRUCK.
a.  Start engine (see paragraph 2-11) and allow forklift truck to warm up.
CAUTION
Transmission may overheat If selected speed range Is too  high  for
loads   being   handled   or   for   terrain   over   which   forklift   truck   Is
operating.    Select  a  lower  speed  range  If  overheating  occurs  to
prevent damage to transmission.
b.  Set transmission controls to desired direction and
speed range (see paragraph 2-12).
c.  For driving, raise forks, approximately 18 in.  (46
cm) by moving fork control lever (1).
TA704500
2-45